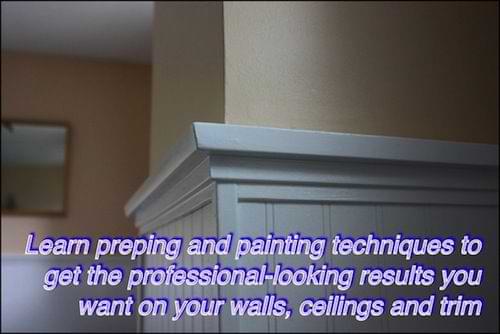 Trim Molding Styles
Examples of molding styles for decorative trim including Victorian, Neoclassical, Colonial, and Mission or Craftsman styles

Making a Pigtail Splice
How to strip and slice electrical wires in a junction box.

Mix Your Own Faux Painting Glaze and Colors
To do sponge painting, a faux granite or any of the glaze painting projects on this website, you'll want to know how to mix the glaze to the right consistency and how to change the color of your paints. Using the color wheel and instructions at this link, you can mix any color you want for any process you have in mind.

How to Replace Switches and Receptacles
How to choose and replace light switches and duplex receptacles.

Repair a Window Sash Cord
Old double-hung wooden windows will often have at least one broken cord. If both are broken the window will be hard to open and won't stay up. Fortunately, it's not a hard repair and you'll have working windows when you're done.

Wiring Diagrams for a Fan/Light Kit
Wiring diagrams for ceiling fan and exhaust fans including separate speed control and light dimmer

Build Crown Molding Lighting
Use these techniques to install crown molding with string lights tucked behind to add an impressive accent to any room in the house.

Lamp Switch Wiring Diagrams
Wiring for standard, 3-way and antique lamps with 2 or more light sockets

Trim Molding Ideas
Get some ideas with these examples of custom-built trim molding using commonly available molding profiles

Fixing Cracks with Spray Foam
Stop cracks that keep coming back behind kitchen counters, around trim molding, and in walls or ceilings.